What are you doing this New Year's Eve – Bill's Update #14
I'm sure that for some, if not most of us, we pictured a different situation when asked this question 4 months ago. In August/September, everything looked so promising. More people got vaccinated and despite the Delta-variant being dominant, it looked like the Holiday season would be kind of "back to normal". Some of you were ready to travel again, planned that long postponed visit to family or friends or thought a stroll over a Christmas market would be possible again. And then Omicron surfaced.
Friends, although I didn't expect Yap to be open again so I would be surrounded by guests, family, friends, and staff celebrating the end of 2021 on the Mnuw, I certainly didn't anticipate being in the Philippines recovering from surgery together with Patricia.
The day that we hoped would never come, unfortunately did arrive in September of this year. Patricia's doctors told us that she would need dialysis or a kidney transplant, as she was in stage V renal failure. Was it a surprise to get that news? No, but there's never a good moment to realize that a kidney transplant is the best way for your loved one to survive.
I'll save you the details on all the things we needed to arrange, but after a lot of phone calls, meetings and help from doctors, friends, and family, we left for the Philippines on October the 24th. Barely one month later, both Patricia and I had surgery. Both, I can hear you asking yourself?
Yes, it's a miracle that my kidney was compatible to be transplanted to Patricia, so on November the 21st, we both underwent surgery. The surgeries went well and although obviously Patricia needed more recovery time, we were discharged from the hospital on December 7th.
This is how events unexpectedly can turn my friends. Instead of celebrating the Holiday season on Yap with Numie, OP and their families, we're here in our vacation condo in the Philippines. Unexpected and not what Patricia and I initially had in mind, but thankful that Patricia has been given a new lease on life and that I was able to donate one of my kidneys to make that happen.
This, rather long introduction, to say that Patricia and I hope you enjoyed Christmas even if it was not what you had hoped for 4 months ago as well as wishing you, your family, friends and all your loved ones a wonderful, prosperous and most of all a healthy 2022!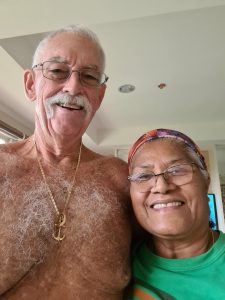 In my previous blog post, I told you that the Emergency Healthy Declaration was extended through the end of January 2022. We're still in a lock down, without knowing when we're going to open again. Hopefully the present Health Emergency Declaration will not be extended beyond the 31st of January 2022 which would allow us to welcome guests again beginning February 1st. Yap has a vaccination rate of 86%, Kosrae 77% and Pohnpei 76%, Chuuk is at 63% which is below the 70% target set by President Panuelo so we are not sure how the President will handle the situation. Adolescents are also getting the vaccine so lots of good things to report, but we're not there yet. Nevertheless, repatriation of stranded FSM citizens is in progress and the first repatriation flight for Chuuk has also been planned. Inter-island travel between the 4 states is also happening.
Having said this, I won't be surprised if Yap remains closed even if the rest of the country will open on the 1st of February or Yap will open with an unacceptable quarantine policy. I might be wrong with my assessment of the situation which would make all of us at the Manta Ray Bay very happy so please keep following our blog and newsletters as we will keep you posted.

Looking forward to welcome you all again as soon we're open again, so you can enjoy the wonders of Yap, in our waters and on land
In my 3rd blog post, I started to list "10 Reasons not to come to Yap" and in this post we're announcing reason #10.
A recap though, before I reveal #10.
"Reason #1 Not to come to Yap"
If you like crowded dive sites, don't come to Yap. … with barely 1,000 divers a year visiting Yap, all dive sites are exclusively for you and your dive buddies.
"Reason #2 Not to come to Yap"
If you are looking for long boat rides to get to the dive sites, don't come to Yap.
"Reason #3 Not to come to Yap"
If you don't like to discover and encounter a wide range of marine life during your dives, don't come to Yap.
"Reason #4 Not to come to Yap"
If you don't like that your room, the dive shop, the dive boat dock, the bar/restaurant, and all other facilities are within a maximum of 2 minutes "walk", don't come to Yap.
"Reason #5 Not to come to Yap"
If you want to limit the type of dives you like to do, don't come to Yap.
"Reason #6 Not to come to Yap"
If you want to be on an island full of nightlife, casinos, discos, and high-traffic tourism areas, don't come to Yap.
"Reason #7 Not to come to Yap"
If you don't like mantas, don't come to Yap.
Reason #8 "Not to come to Yap"
If you don't want everyone, from your housekeeper to your waiter, to know you by your first name and care for your needs, then don't come to Yap.
Reason #9 "Not to come to Yap"
If you don't want your host to be a true dive pioneer, don't come to Yap.
Reason(s) #10 "Not to come to Yap"
If you don't want to visit a tropical paradise as far from the rat race, don't come to Yap.
On Yap you can get and mingle with a beautiful people whose culture is still very strong and who are never too busy to wish you a good morning or just flash you a shy smile in passing. Manta Ray Bay Resort & Yap Divers is a hotel on this paradise island where the staff treats you like a long lost but well-loved relative who has finally come home for a visit and who will see to your every need.
This reason #10 as submitted by Willy Ridep, and although selected as the winner of this competition, we thought the following suggestions also say it all. Maybe we should have chosen for 13 Reasons Not to come to Yap?
If you don't want to experience one of the best shark dives in the world in crystal clear waters, don't come to Yap! (Ann Donahue – tied – Runner up)
If you don't like beautiful beaches with the sound of the waves rushing towards the palm trees, or amazing underwater topography oozing with marine life, or the peaceful laid-back lifestyle of the locals, don't go to Yap. (Patricia Kilroy – tied – Runner up)
If you don't want to have one of the most memorable dive trips of a lifetime don't come to Yap! (Lind Goldrich – 2nd Runner up)
The Parting Shot
AN IRISHMAN'S FIRST DRINK WITH HIS SON
I was reading an article last night about fathers and sons, and memories came flooding back to the time I took my son out for his first drink.
Off we went to our local bar, which is only two blocks from the house.
I got him a Guinness Stout. He didn't like it – so I drank it.
Then I got him an Old Style. He didn't like it either, so I drank it.
It was the same with the Coors and the Bud.
By the time we got down to the Irish whiskey…
I could hardly push the stroller back home.
ITALIAN MOTHER
Giuseppe excitedly tells his mother he's fallen in love and that he is going to get married.
He says, "Just for fun, Mama, I'm going to bring over three women and you try and guess which one I'm going to marry."
The mother agrees.
The next day, he brings three beautiful women into the house, sits them down on the couch and they chat for a while
He then says, "Okay, Mama, guess which one am I going to marry?"
Mama says immediately, "The one on the right."
"That's amazing, Mama. You're right. How did you know?"
Mama replies: "I don't like her."