Dive Staff
OWNER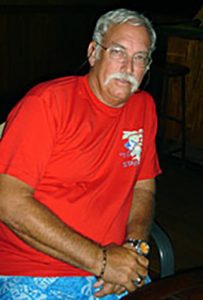 Bill Acker
PADI Open Water Instructor #34545. TDI Enriched Air Instructor #1919. SSI Platinum Pro 5000 Member.
Bill founded Yap Divers in July 1986 and has pioneered the dive industry in Yap ever since. Most of the dive sites of Yap were personally discovered and named by Bill and he is always looking for new and better diving for his guests. With over 12,000 logged dives, most of them here in Yap, you can be sure that you are diving with an experienced professional when you dive with Bill. He regularly dives with the guests and continues to enjoy discovering new sites and new critters.
Bill is proud of what he has built at Yap Divers. It is the best equipped, most experienced dive shop around and has an impeccable safety record. Personal Promise: The Ocean is a very precious part of this world and we are very fortunate to have the technology to discover and enjoy the underwater wonders. My goal is to ensure that every person diving with Yap Divers has a safe and unique dive experience with memories to last a lifetime. Do we succeed with every person – no? But my personal promise to you is that we will continue improving and trying until we do succeed with every guest, every day, every dive.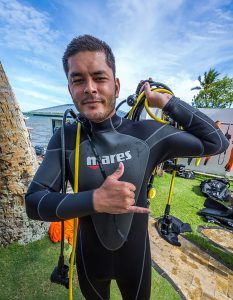 OP Acker
PADI Dive Instructor
Oliver Patrick 'OP' Acker
PADI Open Water Instructor #388185. Until recently, Op was a student and resident of Hilo, Hawaii before returning to Yap to work in the family business. Op has been a certified diver since the tender age of 11 and has since then logged 3,500 dives.
You can find him at the dive shop or in the pool teaching dive courses to new adventurers.
DIVE OPERATION MANAGER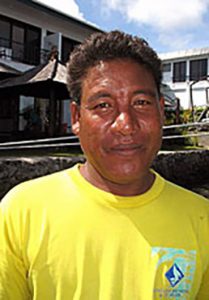 John Pekailug
Born on Lamotrek Atoll in the State of Yap on the 31st of January, 1962. Graduated from Outer Island High School. Learned to dive with Yap Divers in August of 1993 as a dive shop summer hire. Has worked with Yap Divers since then and has logged more than 7,500 dives in and around Yap. Few, if any, people know Yap better than John. Not only an excellent diver but also very personable and a leader among the staff. Regularly mentioned as one of our top dive guides.
Favorite Dive. Any Manta Dive. I enjoy identifying the individual rays and watching their behavior. I also enjoy taking guests to see these magnificent creatures.
DIVE GUIDES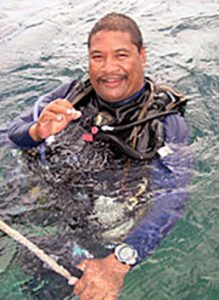 Alex Raimon
Born on Satawal in Yap State on the 17th of July, 1963. Graduated from Pohnpei Agricultural & Trade School (PATS) and learned to dive at Yap Divers in February of 1991 and have worked with us ever since. Our most experienced dive guide, Alex also speaks fluent Japanese as well as fluent English. He has upwards of 8,000 dives and has explored several of Yap's most famous dive sites. Alex's popularity is legendary as evidenced by the numerous cards and letters received from past guests.
Favorite Dives: Paaw Reef because of the beautiful hard coral formations and the abundance of fish. There are almost always stingrays, nurse sharks, turtles, and the occasional dolphin and Yap Corner because when you first jump in the clear, deep blue water is visually overwhelming and the drift into the channel offers a school of baby sharks, large gray reef sharks, eagle rays, schools of barracuda and big-eyed jacks.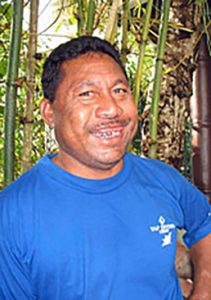 Nicholas "Nico" Erhieisap
Born on Satawal Island on the 1st of May, 1965. Graduated from Outer Island High School on Ulithi Atoll in May 1984. Attended Palau Community College and studied business. Nico learned to dive with Yap Divers in 1996 and currently has over 7,000 dives around the island of Yap. Nico makes up 1/2 of the "A-Team", along with Bill Acker, for his uncanny ability to find the manta rays on every dive.
Favorite Dive: Yap Caverns because on every dive you can see everything from extra small to extra large. From leaf fish to whale sharks (yes I really have seen one there). The crystal clear water on the walls, the shark cleaning station, the occasional pod of dolphins just adds flavor to the macro life found in the sandy parts of the Caverns.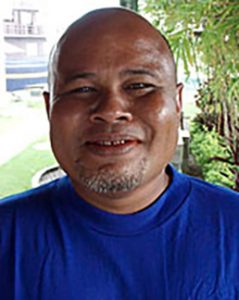 Gordon Keiji
Born in Yap on the 25th of November 1970 and graduated from Yap High School in 1988. Began working in the hospitality industry immediately after school. His first job was as a jack of all trades for the Alphonso Family, owners of the ESA Hotel. In June of 1997 Gordon moved to Beyond the Reef dive shop and was a dive guide for them until he had to leave work in early 2006 to take care of his parents. Tragically, Gordon's mom passed away but his father has made vast improvements allowing Gordon to resume doing what he does best – scuba diving. Gordon came to Yap Divers on Halloween of 2006 and has quickly become one of our most dependable guides. He has over 3,000 dives in and around the reefs of Yap.
Favorite Dive: The Manta dives because those dives offer a combination of everything. Obviously, the guests are here for the mantas and to help our guests get up close and personal with these magnificent animals is a big thrill for me. I also like all of the other marine life in the channels with the rays.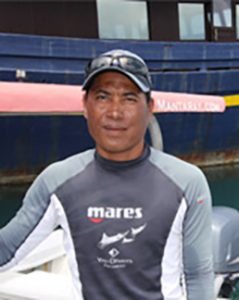 Kintu
Born on Satawal Island on February 1st, 1975, and graduated from Yap Outer Island High School in 1993. Kintu has been guiding us since 2006 with over 4000 dives. Previously he was a guide in Palau with Sea World Dive Center. Favorite Dive: Stammtisch, because of the big Mantas cleaning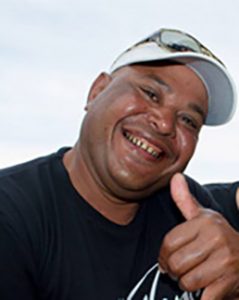 Mike
Born in Yap September 1971 and graduated from Yap High School in 1985. Mike started diving with us in 2009 and has over 3000 dives.
Favorite Dive: M'il Channel because of the size of the area and diversity of marine life.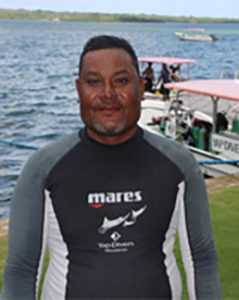 Charles
Born in Woleai Atoll on January 9th, 1975, and graduated at Woleai Elementary School in 1989. Charles has been diving Yap since 2009 and has over 4000 dives.
Favorite Dive: Gilman Wall for the clear water, amount of fish, sharks, and the dramatic vertical wall.
BOAT CAPTAINS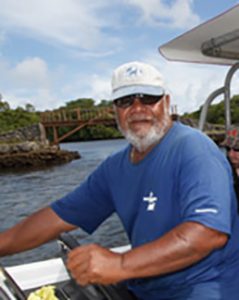 William "Small Willy" Seiwemai
Born on Woleai Atoll in Yap State on the 14th of February, 1957. Graduated from Outer Island High School and began his working career as a seaman on the M/V Micro Spirit (the ship that goes between Yap and the Outer Islands) in the early '70s. William worked his way up to the position of 2nd officer before he resigned and took a job as Captain of the M/V Fasiral. Small Willy came to Yap Divers in January of '98 and has been with us since then.
Stronger than an ox but gentle as a lamb, William is a favorite of our guests and is always ready to offer a helping hand with any need.
Quote: Being the captain of a boat like Popou is a challenge that I enjoy. With brand new engines, equipment, and instrumentation, it is a big responsibility to take care of her and I enjoy that responsibility.
COMPRESSOR OPERATORS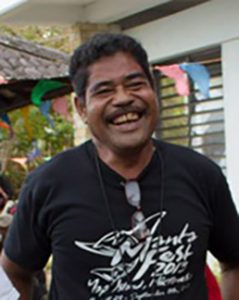 Matt
Born, in Ifalik Atoll on February 24th, 1965, and graduated from Outer Island High School in 1985. Start working with Yap Divers in 2008. Matt prides himself on the quality of his work diligently managing our diving gasses, cylinders, and equipment.
Favorite Quote: "The best of the best"